The entire world has caught on the 'selfie' bug and so has the brand new Lava Iris X5 smartphone. Its dual cameras and highly advanced technology ensure that you live the selfie age to the fullest. Feel in control as this exceptional image capturing power combines with a the intuitive Android OS and an efficient processing capability to give you a smartphone experience of a lifetime.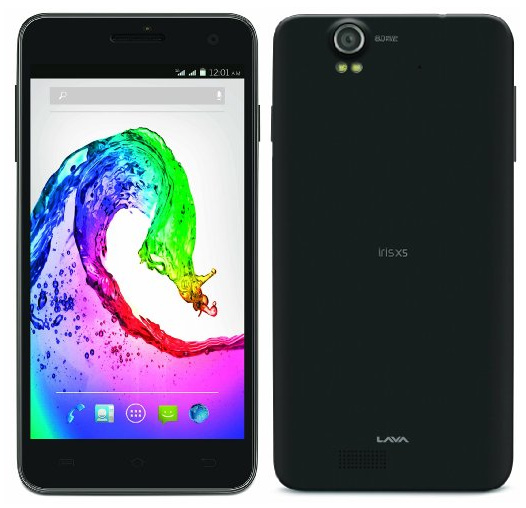 Features of Lava Iris X5
Captures Perfect Selfies
This Lava smartphone boasts of a 5MP front-facing webcam with features like auto focus as well as a backside illuminated sensor. With 1.4um pixel size and a 4-element lens deployed in the camera, this phone captures sharp and detailed selfies with the finer nuances of your expressions.
Front Flash for Capturing Images in Low Light
One of the most unique features of the front camera of this selfie phone is that it brings along front flash. It helps you capture images in great clarity, even in dimly lit surroundings.
Takes Wide Angle Shots
You can rely on the front camera of the Lava Iris X5 mobile phone to freeze a moment with all your friends together in a single selfie, thanks to its wide angle lens. It can cover an angle of 84 degrees in a single shot.
Advanced Rear Camera
In addition to a great webcam, this smartphone plays host to a rear camera with an 8MP lens. It is equipped with dual LED flash as well and uses the Omni BSI+ technology, which further enhances your images. You can freeze your memorable moments using this device's camera, regardless of the lighting conditions in the background.
Records High Resolution Videos
In addition to capturing great quality images, this device can even help you record videos in high resolution. You can expect the Lava Iris X5 selfie phone to record full HD videos of 1080p resolution at the rate of 30 frames per second.
Huge Life-Like Touchscreen
This mobile phone can deliver high-quality and life-like images, thanks to a 5-inch touchscreen fitted on the front panel. As it is powered by the advanced IPS technology, you can expect a wide viewing angle from it. The screen is also capable of producing high definition visuals.
Extremely Responsive
The responsiveness of the device is highly augmented by the OGS touch technology used on the phone's touch panel. It helps reduce the thickness of the glass and makes you feel closer to your digital world.
Sleek and Stylish
The Lava phone makes a style statement wherever you take it. This device has a slim and sleek profile and it measures merely 7.7mm in thickness. In spite of featuring a huge 5-inch touchscreen, it easily fits in your palm and facilitates convenient one-handed use. Available in solid shades of grey and white, the Lava Iris phone has a minimalistic design. A USB charging port and an audio jack are present on it, along with a power button and a volume bar. Three capacitive buttons – settings, home and back keys – are placed right below the touchscreen for ease of use.
Quick and Easy Multitasking
Multitasking on this Lava Android mobile phone is a breeze as a quad core processor sprinting at a maximum speed of 1.2GHz is incorporated in this device. It gives you the freedom to launch multiple applications at the same time. What's more, the chipset even allows quick access to the Internet, loads web pages faster and cuts down on the buffering time.
Ample Storage and Memory
The quad core processor of the smartphone is accompanied by an entire gigabyte of RAM for added convenience. Navigation between applications is simplified to a large extent due the presence of 1GB RAM. You can even carry your digital content along wherever you go, as it tags along an 8GB ROM. Considering that it lets you access the Internet on the move, you can save your music, images, videos, movies, TV shows, important documents and much more on a cloud service to access them from wherever you want. It is also possible to save them on your phone for offline access on the go.
User-Friendly and Intuitive Interface
A user-friendly and extremely intuitive interface greets you as soon as you switch the quad core mobile phone on. The advanced Android KitKat 4.4 mobile platform powers this device and ensures smooth transitions between applications. It even supports a set of Google Mobile services such as Google Search, Gmail, Voice Search, Google Play store and more. You can visit the Play store to download a multitude of applications as well as games that keep you productive and entertained on the move.
Long-Lasting Battery
The Lava slim smartphone stays operational for a long time as a powerful 2100mAh Lithium-Ion battery pumps life into it. So, you can talk to your friends, play games, browse the Internet and capture a number of selfies and still have enough battery to watch movies or listen to music.
Display – 5inch 720P IPS display is the ideal combination in my opinion. It is good to see Lava shipping it with a good resolution screen.
Processor, GPU and Ram
If you look at the specs of the device, you would be greeted with '1.2GHz quad core processor' without telling which the chipset is. This is NOT powered by the very popular and proven Mediatek Mt6582 chipset, rather has a Broadcom Quadcore CPU and Videocore IV GPU. (same combination is seen in the budget phablet from Lava – Lava Magnum X604 ). Overall performance of this combination is fine, but lags behind MT6582 chipset. This can be apparent when playing HD games and all. 1GB ram helps in decent multitasking. Since this is running Stock Android Kitkat, things are gonne be smooth most of the time.
Camera – Even though the description says a lot of facts and features this camera has, in my opinion,one shouldn't have high hopes about the image quality coming out of them. You are sure gonna get good,often noise free pics in good light from the rear 8MP camera. Expect it to get noisy/grainy when the light drops. 5MP Auto Focus front camera with flash is a good thing. Only other phone with similar feature is the pricey Xperia C3. How amazing these selfies would come out remains to be seen.
Overall, for the price, i think its a good phone to buy. A front camera with flash is quite unique and is rarely seen in budget phones. Keep in mind that, this doesn't offer the overall performance you get from the Mediatek Mt6582 quadcore phones available in this price range.
Pros:
1) Awesome Design.
2) 5 MP Front and 8 MP Rear Camera
3) Good resolution of 720×1280 pixels
4) 2100 mAh battery looks good in this range phone although i have not tested it yet.
Cons:
1) They could have improved the Processor from 1.2 GHz to 1.6 GHZ Snapdragon
2) Android kitkat 4.4 is used. They could have used Kitkat 4.4.4
Lava Iris X5 can beat the Redmi 1 S if they could improve the Processor and lower down the price to 7 K.
Source: Amazon.com[link url=http://timesofindia.indiatimes.com/tech/mobiles/Lava-Iris-X5-with-5MP-front-camera-launched-at-Rs-8649/articleshow/41426355.cms]