TD bank offers to win Mortgage Payoff via sweepstakes. The TD Bank BIG Mortgage Payoff Sweepstakes official website is Www.tdbank.com/mortgage. You could win $250,000 toward paying off your home. The TD Bank BIG Mortgage Payoff Sweepstakes begins on March 7, 2010 and ends April 30, 2010.
Screenshot of tdbank.com/mortgage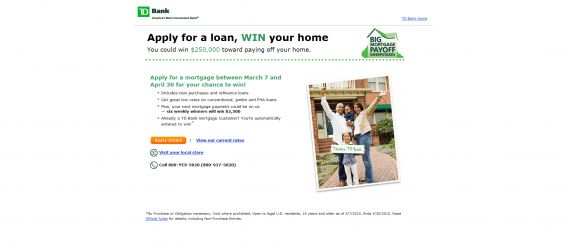 The TD Bank BIG Mortgage Payoff Sweepstakes is open to individual legal residents of the states of Connecticut, Delaware, Florida, Maine, Maryland, Massachusetts, New Hampshire, New Jersey, New York, Pennsylvania, Vermont, Virginia, and the District of Columbia who are eighteen years of age and older as of March 7, 2010.
To enter TD Bank BIG Mortgage Payoff Sweepstakes visit tdbank.com/mortgage and follow the instructions as described on that page. Limit of this sweepstake is one entry per household regardless of entry method.
Prize : One (1) Grand Prize: Payment of the outstanding balance of winner's mortgage, up to $250,000, plus $109,725 that may be used towards the payment of taxes on prize.
Six (6) First Prizes (one awarded per drawing): $2,500 awarded in the form of a bank check payable to the winner.
Winners: For the names of the winners, mail a self-addressed, stamped envelope to: TD Bank" Great Mortgage Payoff" Sweepstakes, P.O. Box 1562, South Bend, IN 46634-1562. Requests must be received no later than April 30, 2010. The names of the winners will be sent when all winners have been verified.
SPONSOR: TD Bank N.A, Two Portland Square, P.O. Box 9540, Portland ME 04112-9540. Administrator: The Ignition Network LLC, 125 S. Wacker Dr., Suite 125, Chicago, IL 60606.
Source: http://tdbank.com/mortgage
Read Full Story from

tdbank.com