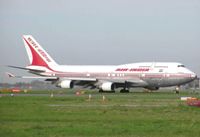 One day, while workers' strike has withdrawn the national airline Air India has difficulty in defining its operational orbit, as many flights from Delhi, Mumbai and elsewhere in the country have been canceled on Thursday.
Air passengers are still stranded at airports after the lightning strike two days Air India left entirely to their fate.
More than 13,000 passengers affected by a strike, but a shortage of 4000-5000 passengers, including 600 in Singapore, Air India said.
Air India has been forced to cancel more than 140 domestic and international flights during the strike.
The national airline has lost 12.5 crore rupee revenue and earnings over the past two days.
Air India has said will take at least three days Eliminate the backlog of passengers.
Read Full Story from

24discover.blogspot.com